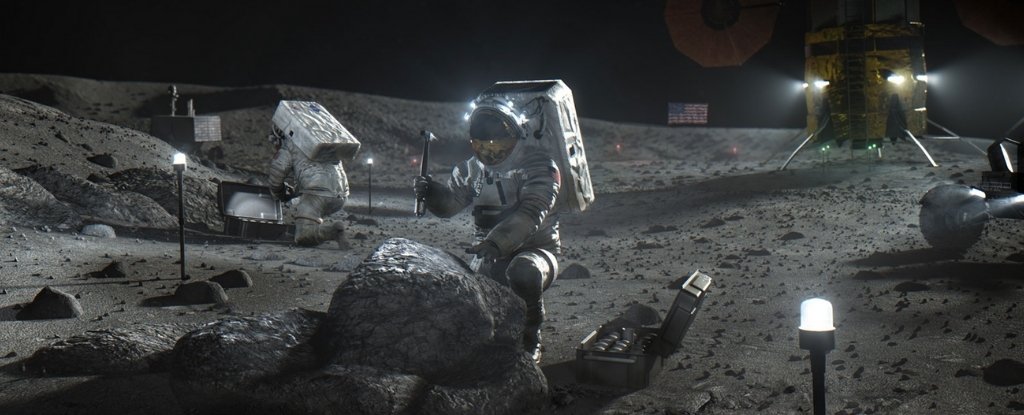 Image: NASA
​
A permanent human presence on the Moon will prove a difficult undertaking according to a
recent paper
published in the September issue of
Science Advances
. The study, drawing on data from China's Chang'E 4 lander instruments, described the hostile environment that awaits future settlers of our natural satellite. The results from the German-Chinese collaboration indicate that the amount of surface radiation on the Moon is greater than previously estimated by NASA's Apollo missions of the sixties and seventies:
Human exploration of the Moon is associated with substantial risks to astronauts from space radiation. On the surface of the Moon, this consists of the chronic exposure to galactic cosmic rays and sporadic solar particle events. The interaction of this radiation field with the lunar soil leads to a third component that consists of neutral particles, i.e., neutrons and gamma radiation. The radiation levels we measured on the Moon are about 200 times higher than on the surface of the Earth and five to 10 times higher than on a flight from New York to Frankfurt.
These levels of ionizing radiation could potentially hinder any prolonged surface activity by humans, which will be forced to explore the terrain using heavily shielded vehicles or robots and spend most of their time inside habitats covered in over thirty inches of lunar soil.
Experts who have analyzed the results from the lunar radiation probe, however, are optimistic that practical solutions are available to deal with this problem. They cite the abundance of lava tubes found throughout the lunar plains as possible underground habitats for the astronauts.
These natural formations could greatly reduce the exposure to the constant bombardment of highly energetic particles, which are known to be extremely harmful to human tissue. In addition to providing shelter, the naturally-formed tunnels would also reduce the logistical nightmare and cost of transporting all the heavy shielding required to safely house the future pioneers of our closest solar system companion.