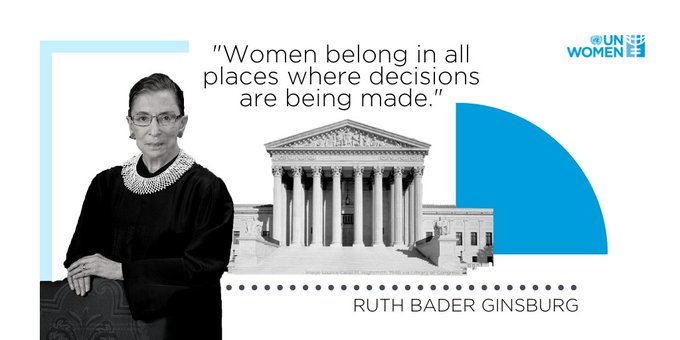 Image: United Nations via Twitter
​
The Supreme Court of The United States just lost one of its most esteemed colleagues. Justice Ruth Bader Ginsburg, a champion for social justice and a trailblazer in her profession, lost her battle to cancer this Friday at the age of 87.
Ginsburg, who was appointed to the SCOTUS by President Clinton in '93, was considered to be THE liberal voice of the august justice podium. Renowned for her work prior to being appointed to the bench, she passionately served as an advocate for the ACLU, a nonprofit organization founded in 1920 to defend and preserve the individual rights and liberties of every person in the US.
Her passing opens up a seat in the highest court in the land that President Trump will attempt to fill before the coming elections. Ginsburg, who was an ardent critic of Trump, wanted her replacement to be appointed by a new president. While the political fight over the next justice is just starting, former US Presidents are calling the nation to focus on the loss of a beloved figure in the American justice system.
ברוך אתה ה' אלוהינו מלך העולם, דיין האמת​